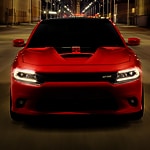 We at Parker McGill Chrysler Dodge Jeep Ram know that the way you want to drive can change based on your mood — and that's why we've found that the Dodge Charger is such a popular mid-size sedan. It caters to drivers, giving you the chance to change the handling settings on a whim.
Every Charger comes with electric power steering; when you have the SRT or the Scat Pack, you can switch the system to three different modes. Feel free and loose in Track mode, select Sport mode when you want a dynamic ride, and opt for Street mode for normal driving.
When you're ready to get on the road, you want to fire up the Charger quickly. That's where the push-button start comes in. Don't worry about finding your keys — just press on the brakes, push the button, and you're off. Test it out when you go for a drive the Dodge Charger at our Starkville, MS dealership.