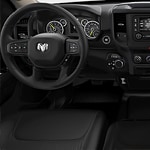 The vehicle that you drive is one of the factors that will determine how safe you are while on the road. The Ram 1500 is a vehicle that comes with features that will help you stay safe while on the road. This vehicle has Forward Collision Warning With Advanced Brake Assist.
This is a system that will detect when you are getting too close to another vehicle. If it senses that a collision is about to happen, then it will apply the brakes. You will automatically be at a safe distance.
Lane Departure Warning Plus is another one of the features that the vehicle has. It will detect when there is an unintentional lane drift. It will give you a visual alert if you are leaving your lane. The system will position your truck back into the right position. If you want to try out the features and give the vehicle a test drive, then you can come to our dealership.